Categories
Archives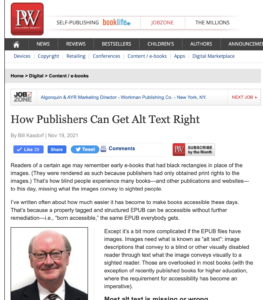 Bill Kasdorf, IPTC Individual Member, has written about IPTC Photo Metadata in his latest column for Publishers Weekly.
In the article, a double-page spread in the printed version of the 11/22/2021 issue of Publishers Weekly and an extended article online, Bill references Caroline Desrosiers of IPTC Startup member Scribely saying "if publications are born accessible, then their images should be born accessible, as well."
The article describes how the new Alt Text (Accessibility) and Extended Description (Accessibility) properties in IPTC Photo Metadata can be used to make EPUBs more accessible.
Bill goes on to provide an example, supplied by Caroline Desrosiers, of how an image's caption, alt text and extended description fulfil very different purposes, and mentions that it's perfectly fine to leave alt text blank in some cases! For more details, read the article here.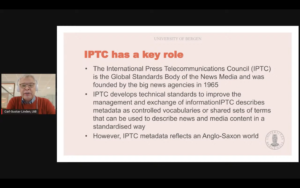 "Metadata is the wheel in the digital business model," according to Carl-Gustav Linden of University of Bergen in Norway. "We can use it to combine the right content with the right readers, listeners and viewers. That's why metadata is so essential."
Professor Linden was speaking at the JournalismAI Festival taking place this week, hosted by the Polis think-tank at the London School of Economics and Political Science. The JournalismAI project is a collaboration between POLIS and newsrooms and institutes around the world, funded by the Google News Initiative.
We are very happy to see several mentions of IPTC standards and IPTC members, particularly the New York Times and iMatrics. The New York Times is seen as a forerunner in content classification, with Jennifer Parrucci (lead of the IPTC NewsCodes Working Group) giving presentations recently about their work. iMatrics supplies an automated content classification system based on IPTC Media Topics which can be used as part of editorial workflows.
One thing we would like to note is that Professor Linden mentions that the IPTC vocabularies are influenced by our background in US-based news organisations, citing an example of the schools terms being focussed on the US system. We are happy to say that in a recent update to IPTC Media Topics we clarified our terms around school systems, making the label names and descriptions much more generic and based on the international schools classifications.
This change was the result of many IPTC member organisations working together from different parts of the world, including Scandinavia, to come to a result that hopefully works for everyone (and of course, each user of Media Topics is welcome to extend the vocabulary for their own purposes if necessary). This is an example of the great work that takes place when our members work together.
The JournalismAI festival continues until Friday this week. All sessions from the festival are available on YouTube.
Thanks again to Polis and the JournalismAI team for giving us a mention!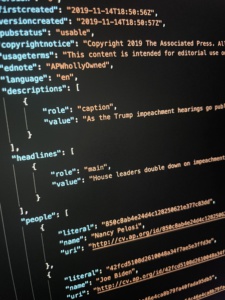 Today, IPTC announces the release of version 2.0 of the news industry's standard for exchanging content in JSON: ninjs.
The new version introduces a completely new way of declaring multiple headlines, body texts and description fields, which is compatible with binary data serialisation formats such as Avro and Protocol Buffers.
"We are very excited about releasing the 2.0-version of News in JSON (ninjs)," says Johan Lindgren (TT), lead of the working group responsible for developing the standard. "When working on improving the 1.3 version, we realised that a number of suggestions would mean breaking changes and after some consideration we took that step. Now we have a version of ninjs that is better suited for APIs, databases like Elastic and conversion to binary methods like Protocol Buffers."
The IPTC News in JSON Working Group has kept the original focus on two main use cases: data in transit and data at rest.
In recent years, more systems have started to convert from JSON formats into binary data serialisation protocols such as Avro and Protocol Buffers for data in transit. However ninjs 1.x couldn't be converted into these protocols because of the dynamic way that keys could be defined, for example "headline_main" and "headline_subhead". In ninjs 2.0, all properties are given well-defined names, so they can be converted into Protobufs schemas. The GitHub repository for ninjs now includes a demonstration of how ninjs 2.0 can be used with Protocol Buffers.
Other tools included in the repository are an example GraphQL server for ninjs and example XSLTs to convert from IPTC XML-based formats like NewsML and NITF.
The ninjs Generator tool has been updated to create ninjs 2.0. In fact, using the tool, users can switch between generating ninjs 1.3 and ninjs 2.0 output at the click of a radio button.
The official location of the ninjs 2.0 JSON Schema is https://iptc.org/std/ninjs/ninjs-schema_2.0.json.
A full list of the changes in ninjs 2.0 can be viewed in section 7.5 of the ninjs User Guide.
We had a great IPTC Photo Metadata Conference last week, focussing on accessibility, interoperability and authenticity.
Videos of all sessions are embedded in this post. Videos are also available from the event page. All videos have subtitles available – just click the "CC" button in the YouTube toolbar at the bottom of each video.
We started off with an introduction from IPTC Managing Director, Brendan Quinn:
Accessibility and "Born Accessible Content"
We then went into the first session, where David Riecks, co-lead of the IPTC Photo Metadata Working Group, introduced the new accessibility properties in the IPTC Photo Metadata Standard:
Next up was Sam Joehl of Level Access, who gave a fascinating presentation showing how a screen-reader application deals with images on the web, showcasing the need for good alternative text and image descriptions:
Next was a panel moderated by Caroline Desrosiers of Scribely, entitled Making Images Accessible Across Industries: How Does it Work and What's Next? Speakers included Kate Sherwood, Cailin Meyer and Rebecca Snyder of the Smithsonian Institution, Rachel Comerford from Macmillan Learning and Jon Sasala from Morey Creative Studios. The subject matter ranged from Smithsonian's image description guidelines for scientific research to Macmillan's "Born Accessible Content" initiative to the problems with "overlay" software that attempts to write alt text automatically. View the session here:
The next panel was moderated by David Riecks, and focused on "Image Accessibility Behind the Scenes: Metadata, DAMs, and Workflows." Speakers were Andrew Kirkpatrick, Director of Accessibility at Adobe, Margaret Warren, founder of ImageSnippets, and Janos Farkas, CEO of CLink Media. This session looked at the implementor's view and covered issues around user interfaces, ensuring metadata stays with images throughout their lifecycles, and of course asked when the new accessibility properties would be available in Adobe products!
Interoperability with Michael Steidl
Next up we moved on from accessibility to the second theme of the day, Interoperability. Michael Steidl, the other co-lead of the IPTC Photo Metadata Working Group, demonstrated IPTC's Photo Metadata Interoperability Tests, new tools to allow users and vendors to test the capabilities of image management software, and compare their metadata handling to the IPTC Photo Metadata Standard specification.
Authenticity, CAI and C2PA
The third theme of the day was authenticity. We invited Santiago Lyon, Head of Advocacy and Education for the Adobe-led Content Authenticity Initiative, to speak about the CAI and its sister project, C2PA – the Coalition for Content Authenticity and Provenance. We looked at some details around how C2PA technology will fulfil the requirements of CAI to provide tamper-evident images and videos.
Finally, Brendan gave some final comments and discussed the details that we know so far about next year's event. He also encouraged everyone to join the Friends of IPTC Newsletter, so that they can be the first to hear about next year's event!
As part of our series highlighting speakers at this week's Photo Metadata Conference, we are very happy to showcase the panellists who will be speaking at the second session: Making Images Accessible Across Industries: How Does it Work and What's Next?
Don't forget to register for the event which is less than two days away!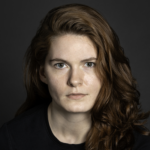 Kate Sherwood
Photographer, Smithsonian Institution, National Museum of Natural History
Kate Sherwood is a Biological Anthropologist and Photographer, which has led them on field expeditions around the world and on hundreds of photoshoots of human skeletal remains related to prehistoric and historic archaeological contexts and forensic cases for the Smithsonian's National Museum of Natural History (NMNH). Since 2017, Kate has produced over ten thousand images documenting the Smithsonian's collections, exhibitions, museum staff, and research, which have been featured on the front page of The Washington Post and appeared in The New York Times, NPR, and many other news outlets and scientific publications. As a disabled photographer, she strives to increase the accessibility of museum collections and research, especially for those who have been historically marginalised.
Cailin Meyer
Museum Collections Technician, Smithsonian Institution, National Museum of Natural History
Cailin Meyer is a Collections Technician at the National Museum of Natural History. Working with all types of natural history collections, Cailin specialises in disaster response and training, biohazard concerns, and increasing digital accessibility for individuals in museum spaces. Cailin is a co-chair of the Smithsonian Institution's DEAI working group, and actively works to increase resources for and understanding of digital accessibility concerns amongst Smithsonian staff. She has most recently tackled the unique issue of designing image description guidelines geared towards scientific and natural history specimens, working alongside Kate Sherwood and Rebecca Snyder. Cailin's background is in zooarchaeology, human and comparative anatomy, and dissection techniques. She earned her MA in Museum Studies from University of Kansas, her MA in Zooarchaeology from Illinois State University, and her BFA from Rhodes College.
Rebecca Snyder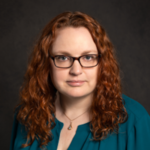 Informatics Branch Chief, Smithsonian Institution, National Museum of Natural History
Rebecca Snyder is the Informatics Branch Chief at the National Museum of Natural History, Smithsonian Institution (SI). Rebecca is responsible for the digital stewardship and preservation of collections and research data. Recent projects include the application of persistent identifiers for SI collections data and media, the Smithsonian Open Access initiative where she was responsible for designing the data flows between all SI collections systems, assisting in the development of a system of record for 3D data, and data quality improvement projects adhering to FAIR data principles. She is also a member of the Audubon Core data standard maintenance group, focusing on creating standards for the sharing of 3D data.
Rachel Comerford, Macmillan Learning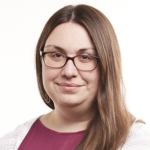 Senior Director of Accessibility Outreach and Communication, Macmillan Publishing
Rachel Comerford is the Senior Director of Accessibility Outreach and Communication at Macmillan Learning where she leads cross-functional efforts to ensure students of all abilities have access to their course materials. In 2020, BISG awarded Rachel the Industry Innovator award for her work helping Macmillan Learning to become the first Global Certified Accessible publisher by Benetech. Under her leadership, Macmillan was recognised by WIPO's Accessible Book Consortium with the International Excellence Award for Accessible Publishing in 2020 for their work towards providing educational materials that any student can use. Rachel has over a decade of experience in the print and digital publishing world. Prior to coming to Macmillan Learning as an editor, she held a variety of editorial and sales positions at WW Norton and Pearson.
Jon Sasala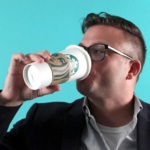 President, Morey Creative Studios
Jon Sasala is president of Morey Creative Studios, a New York-based HubSpot Partner Agency specialising in inbound B2B marketing, content development, web design, lead generation and sales support. He joined the Morey team in 2001 as a graphic designer, and has grown with the organisation throughout the last two decades to his current position. Jon heads the HubSpot User Group for New York City and hosts the 'Inbound & Down' podcast. In addition to his agency responsibilities, Jon co-founded InclusionHub.com, an online database, resource nexus, and community designed to help businesses make better decisions around web accessibility and digital inclusion. Closely connected with the design, programming and content side of web development—coupled with a comprehensive understanding of business operations—he has a unique perspective on the importance of web accessibility for companies operating in the digital world.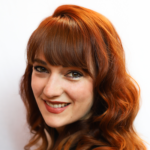 The panel will be moderated by Caroline Desrosiers, Founder and CEO of IPTC Startup Member Scribely. Scribely is a company on a mission to make images and videos more accessible to blind and visually-impaired people and more discoverable to search engines. Scribely's team of expert writers specialise in writing alt text for images and audio description for videos, helping digital media providers create born-accessible visual content for a more inclusive, equitable, and sustainable world. Before starting Scribely, Caroline worked for a global academic digital publisher, SAGE Publishing, where she led a working group to improve the accessibility of interactive eBooks. Caroline is also the Co-Host of Say My Meme, a podcast that describes the internet's best memes for people who cannot see them.
Accessibility features including live closed captions will be used at the event.
For those in timezones where the timing is inconvenient, please go ahead and register anyway – you will be sent a link to the event recordings afterwards.
There's still time to register. Attendance is free of charge for anyone – there is no requirement to be an IPTC Member to join.
For full schedule details and a link to register, see the event page.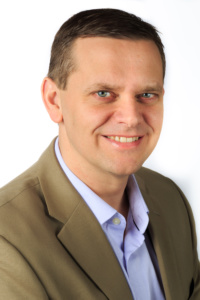 Following on from our announcement of new accessibility-focused properties being added to the next version of IPTC's Photo Metadata Standard, we are very happy to announce an additional speaker at this year's IPTC Photo Metadata Conference: Andrew Kirkpatrick, Director of Accessibility at Adobe.
Andrew and his team define Adobe's overall strategy for accessibility, attend to accessibility issues with product teams across the Adobe product line, and work with customers and standards groups, including representing Adobe on the accessibility-focused committees at the FCC, the United States Access Board, ETSI, and the World Wide Web Consortium. Andrew served as co-chair of the W3C's Accessibility Guidelines Working Group and is an Editor for the Web Content Accessibility Guidelines 2.1 standard.
We are very excited about next week's Photo Metadata Conference, which is taking place next Thursday, 4th November, from 1500 to 1900 UTC. Last year we had over 200 registrants, and this year we are on track to beat that number.
Accessibility features including live closed captions will be used at the event.
For those in timezones where the timing is inconvenient, please go ahead and register anyway – you will be sent a link to the event recordings afterwards.
There's still time to register. Attendance is free of charge for anyone – there is no requirement to be an IPTC Member to join.
For full schedule details and a link to register, see the event page.
The latest version of the International Press Telecommunications Council IPTC's Photo Metadata Standard includes two new properties: Alt Text (Accessibility) and Extended Description (Accessibility). These will make it easier for software companies, publishers, and website developers to make websites and electronic publications more accessible.
These new properties will be introduced to the public and discussed in detail at the IPTC Photo Metadata Conference, held online next Thursday, 4th November. Registration to the IPTC Photo Metadata Conference is free and open to all.
"A major milestone in accessibility is realised through the inclusion of embedded alt text and extended descriptions as IPTC metadata for digital images," said Beth Ziebarth, Director of Access Smithsonian. "All publicly available images can now be made accessible. As with any good inclusive practice, this benefits a range of digital image users and producers. The foresight of the IPTC Photo Metadata Working Group is commendable."
Web accessibility is mission-critical in our digitally inclusive age. As the number of images added to the web increases every day, the visual gap widens for people using assistive technologies, especially if they are blind. Embedding image descriptions for accessibility into photo metadata promises to be a game-changer, making it possible for software and systems to routinely provide alt text with images, thus giving screen reader software the ability to help readers visualise and listen to image descriptions as they are read out loud. Without accessible descriptions, images are silent for the millions who rely on screen readers to fully access the web.
As Richard Orme, CEO of the DAISY Consortium, has pointed out, "Up to 250 million people with blindness or moderate to severe vision impairment can benefit from image descriptions, plus countless more people with diverse information processing differences such as dyslexia who use text-to-speech technology for reading."
The year 2020 was pivotal for web accessibility. Many disabled people were at high risk of severe illness from COVID-19 but struggled to access the essentials online — everything from healthcare and education to groceries and supplies. Inaccessible websites and applications have always been a barrier; during COVID, they became a threat to the health and safety of a vulnerable population.
Image descriptions are essential for people with visual impairments using assistive technologies and a fundamental requirement of the World Wide Web Consortium's (W3C) Web Content Accessibility Guidelines (WCAG), the most widely-used guidelines for web accessibility in the world (W3C Web Accessibility Laws and Policies).
IPTC's new accessibility properties will make it easier for platforms and software to comply with WCAG requirements and deliver images that are inclusive for everyone. Embedding accessible image descriptions into the photo metadata will make it possible for alt text and extended descriptions to travel wherever the image goes on the web or in books or other documents provided as EPUBs.
If you are interested, there are a few things you can do now:
Attend the IPTC Photo Metadata Conference on November 4th to understand more about the new properties and how you can use them.
Contact your software providers to tell them about these new properties and emphasise that these features are very important to you. Ask them when they will make the new properties available in their user interface.
Contact your web content management software provider to make that case as well.
For larger enterprises, think about how you could implement these properties into your organisation's workflow.
The online IPTC Photo Metadata Standard specification will be updated to the new version on 4 November 2021.
IPTC members and our guests have just finished a very busy 2021 edition of our IPTC Autumn Meeting. Held online over three days, the meeting was a mix of IPTC Working Group presentations, members presenting recent projects, and invited guest speakers on important topics in the news and media world.
This year we heard member presentations from:
Honor Craig-Bennett of the BBC reporting on the Images Digital Asset Management system, based on the Guardian's open-source GRID system. We heard from Andy Read about this system
Heather Edwards from Associated Press spoke about their project to replace their existing rules-based classification system
Mark Milstein from Microstocksolutions spoke about a new project he is working on to create "synthetic media" AI-generated images and videos based on textual descriptions and metadata
DATAGROUP Consulting Group's Robert Schmidt-Nia spoke about a project using AWS's Comprehend text classification service to power a serverless news classification system using IPTC's Media Topics vocabulary
Frameright's Marina Ekroos speaking about an EU stars4media project they are working on called "Artificial Intelligence in photojournalism: can it work?"
Scott Yates from new Startup Member JournalList spoke about the trust.txt project, letting news providers state their affiliates and official social media channels in a simple way
Bruce MacCormack from CBC / Radio Canada spoke about Project Origin, looking at authenticity for video and news media, passing requirements to the C2PA work
The BBC's Charlie Halford spoke about C2PA, updating members with a deep technical view on how the system is planned to work, as detailed in the recently-released draft specification.
In addition, we heard from guest speakers:
Keesiu Wong of Design AI spoke about the Videre AI project, looking at "next-generation video understanding". He was joined by project partner Javier Picazo from Associate Member Agencia EFE, Spain's national news agency.
Alex Lakatos of Interledger spoke about the distributed payments technology which is used by…
Uchi Uchibeke of Coil who use Interledger to implement micropayments which can be implemented on publisher websites by adding one line of HTML.
New standard versions
The Working Group presentations were also packed with content, in particular three new standard versions that were proposed to the Standards Committee:
NewsML-G2 v2.30 adds fields for "residrefformat" and "residrefformaturi" to enable publishers to describe the format of a resource ID reference, and makes catalog and catalogRef optional to support publishers who only use URIs for controlled values and therefore have no need for catalogs
The News in JSON Working Group's ninjs v2.0 is a non-backwards-compatible new release which changes the way repeating values are handled, moving from patternProperties fields with arbitrary names such as "body_text" and "body_html" to arrays with fixed names such as "bodies". The objects within the array elements include properties "role" and "contenttype" which take the place of the arbitrary extension to the "body_" tag.
The IPTC Photo Metadata Standard v2021.1 adds new properties to IPTC Core which are intended to be used for accessibility purposes: "Alt Text (Accessibility)" and "Extended Description (Accessibility)". We have also added and Event Identifier property to align with other metadata ID properties, and modified the Description Writer field to include the writer of the accessibility fields.
New faces
We were very happy to welcome new members Frameright, JournalList, Spotlight Sports Group, Glide Publishing Platform to the meeting.
The Standards Committee was chaired for the first time by new Chair Paul Harman of Bloomberg.
The AGM was the first for new Treasurer, Gerald Innerwinkler of Austria Press Agentur APA.
And we congratulate Philippe Mougin of Agence France-Presse AFP for being voted on to the IPTC Board of Directors, along with the existing Board members who were all re-elected.
It was another great meeting with over 70 representatives from 42 organisations in 17 different countries! We're hoping that the next IPTC member meeting will be back to face-to-face, and we have provisionally booked Tallinn, Estonia for 16 – 18 May, 2022. We will confirm this in January 2022.
We are proud to announce the upcoming IPTC Photo Metadata Conference. This year's event will be held online on Thursday 4th November 2021 as a Zoom webinar, free for anyone to attend, whether you are an IPTC member or not.
We are very happy to be hosting speakers from:
the Smithsonian Institution, Macmillan Learning, Morey Creative Studios and Level Access speaking about accessibility for images on today's web
Adobe and the Content Authenticity Initiative speaking about content authenticity and provenance and the forthcoming C2PA specifications
Michael Steidl from IPTC's Photo Metadata Working Group introducing IPTC's new tools to measure and compare the interoperability of photo metadata tools.
The event will run from 1500 to 1900 UTC, which is:
1500 to 1900 in the UK, Ireland and Portugal
1600 to 2000 in Central Europe
1700 to 2100 in Eastern Europe and Israel
1100 to 1500 in US East Coast
0800 to 1200 in US West Coast
2300 to 0300 in China
0200 to 0600 on Australia's East Coast (sorry about that!)
See more information and register at https://iptc.org/events/photo-metadata-conference-2021/ or simply register using this link.
The webinar will be recorded, and those who register but can't attend will be sent a link to the video so that they can watch the recording afterwards.
After registering, you will be emailed with a calendar invitation and a Zoom webinar link.
We're looking forward to seeing you there!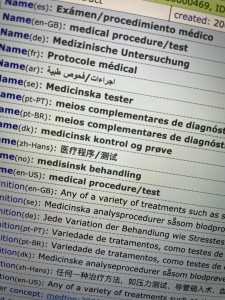 We have just released the Q3 update to Media Topics, IPTC's subject taxonomy used for classifying news content.
Most were changes to the education branch, following our regular review cycle. We also added some missing Norwegian translations (thanks to Tor Kristian Flage at NTB) and fixed some incorrect Wikidata mappings.
The changes are listed below. All changes are in both en-GB and en-US versions unless otherwise noted.
New terms:
Label changes:
Definition changes:
Hierarchy change (in addition to those listed above):
Retired terms:
As usual, the Media Topics vocabularies can be viewed in the following ways:
For more information on IPTC NewsCodes in general, please see the IPTC NewsCodes Guidelines.